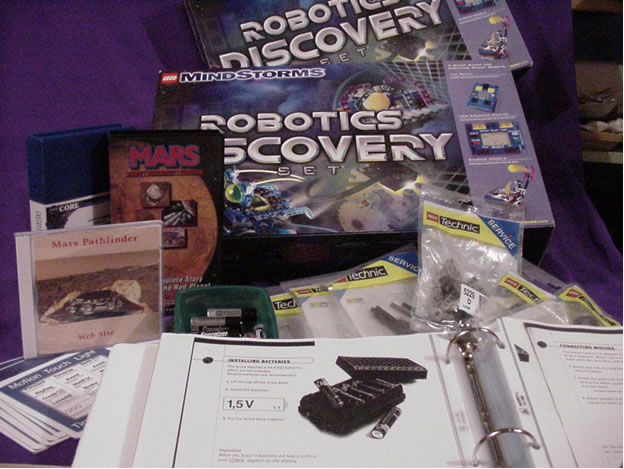 Grade Level: Elementary, 5-8
---
Description:
Description: The Robotics trunk is designed to help teachers and students explore the concepts of robotics through a series of discovery-oriented activities utilizing the Lego Robotics Discovery Set.
Designer: Ken Fay (UMPI science education graduate 2001)
History: Designed in 2001 for the Northern Maine Museum of Science Library of Traveling Trunks from grant monies received from Maine School of Math and Science for NASA-related educational projects.
Educational Content
The Robotics trunk was designed using the following guidelines established by the Maine State Learning Results
Science and Technology
A. MOTION
A3 Describe and quantify the ways machines can provide nmechanical advantages in producing motion
.
J. INQUIRY AND PROBLEM SOLVING
J1. Make accurate observations using appropriate tools and units of measure.
J6. Design, construct, and test a device (invention) that solves a special problem.
K. SCIENTIFIC REASONING
K6. Support reasoning by using a variety of evidence
K8. Construct logical arguments.
K9. Apply analogous reasoning.
L. COMMUNICATION
L2. Define problem-solving strategies and solutions.
L3. Evaluate individual and group communications for clarity, and work to improve communication.
L4. Make use of scale drawings, maps, and three-dimensional models to represent real objects, find locations, and describe relationships.
L6. Identify and perform roles necessary to accomplish group tasks.
Mathematics

A. NUMBERS and NUMBER SENSE

A3. Apply concepts of ratios, proportions, percents, and number theory (i.e. primes, factors, multiples) in practical and other mathematical situations.
B. COMPUTATIONS

B2. Create, solve, and justify the solution for multi-step, real-life problems including those with ratios and proportions.


E. GEOMETRY

E3. Use a coordinate system to define and locate position.

Career Preparation

A. PREPARING FOR THE FUTURE

A2. Use teamwork strategies and apply communication and negotiation skills to decision making.

Modern and Classical Languages

B. READING, LISTENING, AND VIEWING FOR UNDERSTANDING

B5. Read and interpret multi-step written instructions.
B6. Read and interpret simple printed information such as advertisement and posters.

Contents
Notebook: MSLR support, lessons plans, assessment, etc.
3 binders (black) with copies of the Robotics Discovery Set manuals
Videos: "Mars Past Present and Future", "NASA CORE: Let's Talk Robotics"

Books & Publications:

History of Robots (multiple downloads--Web site info)
Introduction to Robots and Automated Systems, download from Canadian Space Agency
Posters:

1 Mars Pathfinder
5 laminated pictures of Mars
6 laminated information cards for programming robots
CD: Mars Pathfinder Web Site
Objects: Batteries, Extra Lego gears (3) and axles (3), 2 Lego Mindstorms Robotics Discovery Sets